As a collaborative of 100+ of the nation's leading affordable housing and community development nonprofits, HPN and its member organizations work together to scale innovation and impact to help millions of people gain access to affordable homes and thriving communities. Peer Exchange begins with the senior leaders and staff of member organizations sharing knowledge and ideas to advance best practices, solve shared challenges, and fill gaps in the industry. HPN convenes senior leaders twice a year for three-day immersive sessions, and the conversations continue across disciplines and focus areas with ongoing virtual peer exchange, workgroups, and communities of practice facilitated by HPN staff. In 2020, HPN staff facilitated over 100 virtual peer exchange sessions to promote learning and innovation in response and recovery to the global pandemic.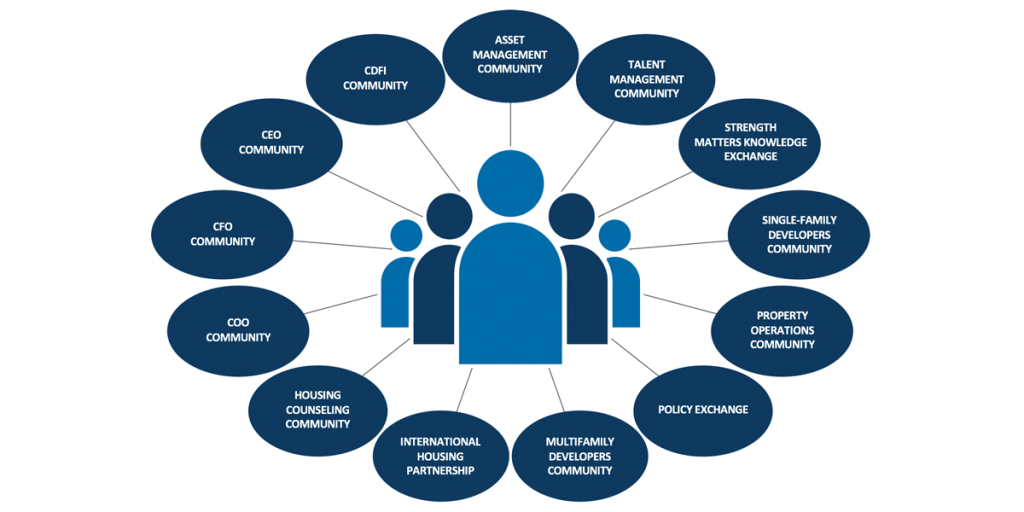 How A Community of Practice Impacted 750,000 Families
In the post-foreclosure crisis era, when demand for housing services is high but public resources are scarce, HPN's efforts on housing counseling focus on innovation, business transformation and sustainability. Through our Community of Practice, and through the creation of new businesses, we look for ways our members can enhance their housing counseling work by developing sustainable business models with reliable revenue sources and new modes of service delivery. Since 1995, we have supported our members with a cumulative pass through of more than $35 million in combined federal HUD Housing Counseling and National Foreclosure Mitigation Counseling Program funds, which have enabled the provision of homeownership, foreclosure prevention, renter, homeless and reverse mortgage counseling to over 750,000 families.
International Housing Partnership
The International Housing Partnership (IHP) was launched in 2003 when a group of Housing Partnership Network CEOs visited social housing groups in the Netherlands and the UK. IHP was formalized in 2009 and is now a collaborative of more than 175 high-capacity nonprofits from Australia, Canada, the UK, and the U.S. that collectively operate one million affordable homes that house more than 2.5 million people.

IHP holds annual peer exchanges that are the primary mechanism for peer exchange and learning among senior leadership from the international member organizations. IHP's efforts are built on three types of interaction among members: 1) Exchange of information on areas of common interest; 2) Deeper collaboration and exploration on specific areas identified as priorities; and 3) Creating opportunities for business collaborations among members.

IHP is governed by a steering committee made up of two representatives from each of the four countries, with the chair rotating each year. IHP operations are supported by staff from each of the sponsoring national associations -- Housing Partnership Network in the U.S., Housing Partnership United Kingdom, Housing Partnership Canada, and PowerHousing Australia. IHP's day-to-day affairs are managed by the Housing Partnership Network which operates the IHP Secretariat.
---
In May 2016, President and CEO, Tom Bledsoe testified before the Housing and Insurance Subcommittee of the House Financial Services Committee. Sharing insights from IHP, HPN advocated for policies that will help the U.S. system for affordable housing stay resilient, sustainable, and dynamic for years to come.
STRENGTH MATTERS® is an industry collaborative among HPN, NeighborWorks America, and Stewards of Affordable Housing for the Future (SAHF), organized to increase the financial strength and access to capital of nonprofit affordable housing enterprises. Subscriptions through the Strength Matters website provide access to our series of white papers on best practices in financial reporting and enterprise capital, as well as regular webinars.