Following the foreclosure crisis, the housing market was flooded with severely delinquent mortgages. These assets, owned by financial institutions and lenders, remain in limbo due to the high cost of moving forward with foreclosure or collection efforts from borrowers. Less than 10 percent of the homes are occupied, and as a result, they can destabilize neighborhoods because no one takes responsibility for their upkeep.
Housing Partnership Network, in partnership with the National Community Stabilization Trust (NCST) and foundation and institutional partners, created the Community Restoration Corporation (CRC), to address the low-value distressed assets that destabilize neighborhoods. CRC acquires pools of delinquent single family mortgage assets and partners with local organizations and HPN members to resolve them in ways that will most benefit the community.
In 2015, Community Restoration Corporation, along with its partner NCST, launched the "Reclaim Project" to directly address the resolution of pools of distressed assets within communities.
Major loan servicers donate pools of distressed assets to CRC alongside a cash contribution to cover resolution or reclaimation costs. Through the Reclaim Project, CRC partners with community organizations including local HPN members to determine the best possible resolution for the home or land.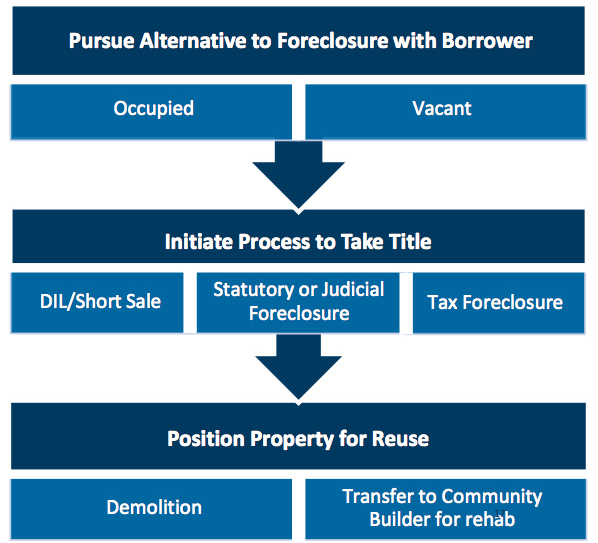 Housing Partnership Network receives service fees for managing the resolution of the distressed assets.
Banks benefit from having assets removed from their balance sheets.
HPN members and other local community developers benefit from the donation of homes that can then be rehabbed and provided as affordable homes for low- and moderate-income homebuyers
Neighborhoods and communities benefit from stable, occupied homes and an increase in property values
Individuals benefit from affordable, rehabilitated homes in stabilized neighborhoods. The 10% of people who still occupy homes that have been processed through the Reclaim Project are supported through help with settling or paying off their delinquent mortgages.
National Community Stabilization Trust